« Sacharow-Preis an Filmemacher Jafar Panahi | Home | "Because the night belongs to lovers, because the night belongs to us." »
By Fumiko Matsuyama | November 6, 2012
Recently, Berlin's Schwule Museum(Gay Museum) presented two exhibitions about two gay filmmakers on display. One is the internationally famous Italian film director, poet and writer, Pier Paolo Pasolini; the other, Harry Raymon, did not go beyond the border so much, that surprises us still more.
In celebration of Pasolini's 90th birthday his works are on view. Hanging on the wall in the entrance hall are large stills from his works, like Accattone, Teorema (Theorem), Medea with Maria Callas, and I Racconti di Canterbury (The Canterbury Tales). At the side of these photos are 36 quotations about Pasolini from such personalities as Roland Barthes and Ingeborg Bachmann to Jean-Luc Godard. This suggests that he aroused the interest of the world's intellectuals beyond the movies. His early tragic death at age 53 – he was murdered by a teenage-boy in 1975– shocked the world at that time. It was provocative like his many films. Copies of the newspapers with the picture of his dead body are pasted on the pillar in the same room. Other stills and work photos as well as private photos in smaller sizes are in the back showrooms. Some photos remind us that Pasolini wrote screenplays for other directors: La donna del fiume (The River Girl, 1955) by Mario Soldati, La notte brava (The Big Night, aka Bad Girls Don't Cry, 1959) by Mauro Bolognini, La lunga notte del '43 (Long Night in 1943, 1960) by Florestano Vancini, etc. As a matter of course, his own words and books are not lacking. The display is small-scale, however essential.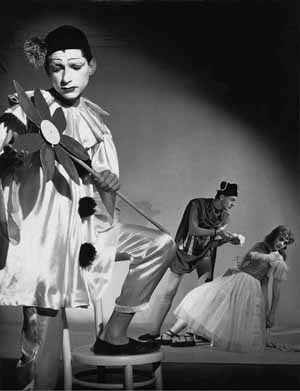 »Die ganze Skala menschlicher Gefühle!« – »The whole scale of human emotions!«
Ron Holloway, KINO – German Film & International Reports (Photo: Harry Raymon in »Bagetelle« Schlosstheater Celle, 1957, courtesy S. Enkelmann)
On the big black-and-red poster of Regentropfen (Raindrops) by Harry Raymon and Michael Hoffmann is a quotation from a review by Ron Holloway: »Die ganze Skala menschlicher Gefühle!« (The whole scale of human emotions) He appreciated Raymon's autobiographical film and wrote much about it at the time (1981).
Harry Raymon who lives in Munich today is actually rather an actor. He was born in Germany, but under the Nazi regime, his family immigrated to USA because of their Jewish lineage. While he was in the American military service in Europe, he took an acting course.  After the Second World War he participated in the Dramatic Workshop in New York which was led by Erwin Piscator. To his school mates belonged Tony Curtis and Marlon Brando.
Then he returned to Germany, where he worked for theaters, films and television networks. He made his screen debut with Endstation Liebe (Last Stop Love) by Georg Tressner in 1957 in which Horst Buchholz played the leading role. At about the same time as the American movie version, The Boys in the Band by William Friedkin, he played this drama on the German stage in 1969.
In the exhibition's room there are many photos, documents, a portrait painting and his patchwork quilts. A television set shows the black-and-white film Regentropfen about a Jewish family in the 1930s. The name of the exhibition (Curator: Wolfgang Theis) is taken from Raymon's autobiographical novel, Einmal Exil und züruck, which was published in 2005.
Topics: German Film, International Reports, Misc. | Comments Off on Pier Paolo Pasolini & Harry Raymon Exhibitions
Comments are closed.