By Dorothea Holloway | July 31, 2015
Natürlich habe ich am 29. Juli in ARTE noch mal das Meisterwerk Paris, Texas (1984) von Wim Wenders gesehen mit der bezaubernden Nastassja Kinski und dem großartigen Harry Dean Stanton.
Da Wim Wenders 70 Jahre wird, gab's nach dem Road Movie Paris, Texas, fotographiert von Ron's Lieblingskameramann Robby Müller und nach einem Screenplay von Sam Shepard, noch den Kultfilm und Thriller Der amerikanische Freund (1977) mit Dennis Hopper, Bruno Ganz, Lisa Kreuzer. Ron Holloway hat die Wenders-Filme sehr geschätzt und hat mir mal erklärt, dass ihn die Bildfolge von Wenders manchmal an John Ford erinnert. In KINO – German Film No: 26, 37, 44 und 51 haben wir über Wim Wenders berichtet. Ein Zitat aus KINO – German Film No: 26 aus dem Jahre 1987. Es geht um Der Himmel über Berlin (Sky over Berlin):
As Wim Wenders himself hints by way of a dedication in Sky over Berlin, the proper entree to this city-portrait is arguably via the cinema of the late Yasujiro (Ozu), Francois (Truffaut), and Andrei (Tarkovsky). Be that as it may, another tipoff that there's something special about the making of this film is the "Circus Alekan" motif: French cameraman Henri Alekan (born 1909), who learned his trade firsthand as an assistant to Eugen Schufftan and then became a legendary figure in his field through collaboration with such illustrious names as Abel Gance and Rene Clement, Jean Cocteau and Marcel Carne. Thus the city-portrait becomes a film-poem.
Topics: Film Reviews, German Film, International Reports | Comments Off
By Dorothea Holloway | July 29, 2015
So hatte es sich Wolf Gremm gewünscht, und so kamen wir alle zu seiner Trauerfeier am 24. Juli in die Kreuzkirche in sommerlicher Kleidung.
Und Wolf lachte uns an in Mitten wunderbaren Sonnenblumen und Rosen. Wir hörten den grandiosen Cellospieler Sonny Thet, der für Wolf neben eigenen Werken auch Bach spielte. Regina Ziegler und ihre Tochter Tanja wurden von Professor Dr. Norbert Schneider begleitet, der uns berichtete, er habe Wolf, als er von seiner Krankheit wußte, nicht ein einziges Mal klagen gehört.
Am 11. Februar 2015 bekam ich von Wolf einen Brief mit der DVD Ich liebe das Leben trotzdem:
Liebe Dorothea,

es ist endlich geschafft. Mein Film Wolf Gremm – Ich liebe das Leben trotzdem ist fertig. Nach sehr vielen Selfies (ich hatte vier Minikameras im Einsatz) und 130 Tage Schnittarbeit am Computer. Durch das viele Sitzen habe ich jetzt zwar einen schweren Bandscheibenvorfall, aber ich finde, es hat sich gelohnt. Es hat mir sehr geholfen. Der Film ist für Krebskranke und deren Angehörige gemacht. Wenn er Dir gefällt, gib ihn bitte weiter. Meine Erfahrung mit ein paar Testvorführungen ist, dass er Trost spendet und den betroffenen Menschen Hoffnung gibt, mit der Krankheit zu leben.

Mit lieben Grüßen
Dein Wolf
Topics: German Film, Misc. | Comments Off
By Dorothea Holloway | July 27, 2015
Am 20. Juli gab es bei ARTE ein Traumprogramm für Bergman-Fans: Fanny und Alexander (1982) und Wilde Erdbeeren, das Psychodrama aus dem Jahre 1957 mit Bibi Anderson und Victor Sjöström.
Ronald Holloways Buch BEYOND THE IMAGE – Approaches to the Religious Dimension in the Cinema hat auf dem Cover ein Foto von Ingmar Bergman's Seventh Seal, Svensk Filmindustri, ©1977 World Council of Churches, Geneva. Aus Rons Buch möchte ich zwei kurze Ausschnitte zitieren:
Bergman looks for a dialogue partner through all of his important films of the 1950s: Summer Interlude (1950), Sawdust and Tinsel (1953), The Seventh Seal (1956), and Wild Strawberries (1957), those »etudes« leading up to the trilogy on God – Through a Glass Darkly (1961), Winter Light (1962), and The Silence (1963) – that stands at the heart of his work.

In Ingmar Bergman's Winter Light –also known as The Communicants (1962) – biblical man's search for for his own identity culminates in a new awareness of his own existence. The director was greatly satisfied with the results achieved in the film, in which a nonbelieving Swedish pastor is confronted by the death of God about him, but in the midst of his own disbelief continues to praise God's name. One of the most autobiographical of modern filmmakers, Bergman invited a dialogue partner, journalist-director Vilgot Sjöman, to trade thoughts during the production. The dialogue sessions are recorded in L 136, Sjöman's diary of the Bergman film.
Topics: Book Corner, Film Reviews, International Reports | Comments Off
By Dorothea Holloway | July 23, 2015
Ab morgen ist das Meisterwerk Taxi Teheran aus dem Iran bei uns in den Kinos. Panahi selber sitzt am Steuer. Er ist auch der Onkel der zehnjährigen Hana, die im Februar in Berlin den Preis entgegen nahm, da Jafar Panahi nicht ausreisen darf.
Hana Saeidi gehört auch zu den Fahrgästen, die von Taxifahrer Jafar durch Teheran gefahren werden. Dazu gehörtt u. a. eine Lehrerin (im Iran sind wohl immer mehrere in einem Taxi), die einem Herrn, der die Todesstrafe befürwortet, ordentlich die Leviten liest. Ein Händler mit verbotenen Filmen steigt zu, zwei ältere Frauen mit Goldfischen. Ist das inszeniert? Improvisiert? Jafar Panahi am Steuer mit Brille und Schiebermütze lächelt dazu. Siehe im Tagesspiegel, geschrieben von Christiane Peitz vom 22. Juli und in der Süddeutschen Zeitung, ebenfalls vom 22. Juli – mit einem Bild der Nichte des Regisseurs, der auch für Buch, Kamera, Schnitt verantwortlich ist. Der Bericht in der Süddeutschen ist von Tobias Kniebe.
Ich habe ganz selten einen so außergewöhnlichen, aufrichtigen, wichtigen Film gesehen wie Taxi Teheran. Vor einigen Jahren habe ich Teheran besucht; bin so froh über das Abkommen mit Teheran. 1991 war ich beim 7th Isfahan International Festival of Films for Children and Young Adults (6-12 October 1991). In KINO – German Film & International Reports No: 44 (1991) habe ich über das Festival geschrieben. Hier ein Ausschnitt:
The trip to Iran was rewarding in more ways than one. For not only was there the competition entries at the festival to view each afternoon, and this in an historical city of breathtaking architectural beaty, but one also had the opportunity to spend hours talking with Iranian filmmakers and journalists, as well as viewing on cassette or at the retrospective a collection of some 60 films produced in Iran since 1985 – from the fascinating and strikingly photographed Runner (1985) by Amir Naderi to the latest productions of 1991. Festival director Ali R. Shoja Noori and his friendly team announced a policy of »standing by for 24 hours« in the video room of the Abbasi Hotel to be at the service of foreign guests.«
Man sagt: »Isfahan ist die Zweitschönste Stadt der Welt.« Und ich hätte einen Wunsch: Verehrter Jafar Panahi, setz Dich in ein Taxi und mach den Film Taxi Berlin!
Topics: Film Reviews, International Reports | Comments Off
By Dorothea Holloway | July 20, 2015
Am Sonnabend den 18. Juli sah ich von Margarethe von Trotta im WDR die Filmbiografie Hannah Arendt mit der großartigen Barbara Sukowa. Der ganze Sonntag gehörte dann Margarethe von Trotta.

Ron Holloway hat gern über ihre Filme geschrieben. Gleich in unserem ersten KINO – German Film von 1979, dann in KINO No. 2, 22, 23, 52, 57 und 58 aus dem Jahre 1995, aus dem ich zitieren möchte.
Das Versprechen (The Promise)
The opening-night film at the 45th Berlinale, Margarethe von Trotta's Das Versprechen ( The Promise ) will also go down in the books as the first feature film to deal specifically with the Berlin Wall, along with the fate of Berliners on both sides over a quarter-century of despair, frustration, longing, anger, and ideological confrontation, those physical and psychological clashes that will leave scars for yet another quarter-century to come. One may question why it took five years after the fall of the wall to make The Promise, and why it had to be made from a West German viewpoint, […] but better late than never and better a film to reflect upon than no film at all. […] Credits are also a major plus. Franz Rath's rich images and camera finesse are abetted by Jörg Widmer's steadycam (Bavarian Film Prize) flourishes. In addition to other honors, Das Versprechen was recently awarded by the Gilde deutscher Filmkunsttheater.
Topics: Film Reviews, German Film | Comments Off
By Dorothea Holloway | July 17, 2015
Ich liebe das Leben trotzdem ist Wolf Gremms letztes Werk. Wolf dokumentiert seinen Kampf gegen die Krebserkrankung – überhaupt nicht wehleidig, manchmal mit leisem Humor, wenn er uns all die Medizin zeigt, die er einnehmen muss.
Wolf Gremm führt uns an magische Orte, die Musik hilft; es ist seine Stimme, die wir hören. Atmosphärische Momente. Eine Szene werde ich nie vergessen – danke Wolf, von ganzem Herzen! Im Kreise von Freunden ist auch Ron Holloway zu sehen und Wolf sagt: »Ron war einer der integersten Menschen, die ich kannte.«
Ein Zitat aus KINO – German Film »40 Years of Ziegler Film« No: 105 (2013):
Kamikaze 1989 directed by Wolf Gremm and starring Rainer Werner Fassbinder. From Wolf Gremm's close relationship with Rainer Werner Fassbinder came a cult film classic in the New German Cinema movement: Kamikaze 1989 (1982), starring Rainer and directed by Wolf. A highly personal film, Kamikaze 1989 is based on Swedish writer Per Wahlöö's thriller and stars Fassbinder as a hard-boiled police detective in his last acting role. »It suggests a curious but not surprising blend of influences," wrote critic Vincent Canby, »including Fassbinder's films, Godard's Alphaville, Fritz Lang's Dr. Marbuse, and Louis Feuillade's virtually endless silent serial Les Vampyres. (New York Times). When Kamikaze 1989 premiered in Manhattan, John Cassavetes joined the fun with a city-wide radio plug promoting the film, the director, and the actor. Packed with kooky characters wrapped in weird outfits, it plays in a futuristic place and space – let's say, in the 21st century.
Topics: German Film | Comments Off
By Dorothea Holloway | July 15, 2015
Heute Abend werde ich mir im RBB zum Tode von Wolf Gremm Ich liebe das Leben trotzdem und Kamikaze 1989 ansehen.
In KINO – German Film »40 Years of Ziegler Film« No: 105 (2013) haben wir natürlich über Kamikaze 1989 geschrieben. Auf Seite 1 ist Regina und Ron, auf Seite 3 ist Regina und Wolf; auf Seite 80 bin ich mit Wolf, wir mochten uns wirklich und bin so traurig, Dorothea.
Topics: German Film | Comments Off
By Dorothea Holloway | July 14, 2015
Im Tagesspiegel vom 11. Juli 2015 ist ein sehr informativer und unterhaltsamer Bericht über das tschechische Filmfestival in Karloyy Vary. Ron Holloway hat dieses Filmfest und seine Macher über alles geliebt. Wir haben uns in Karlovy Vary kennen gelernt, wo es statt einer Palme einen Kristallglobus zu gewinnen gibt.
Oft haben wir in KINO über das sommerliche Fest der Filmleute aus aller Welt berichtet. Hier aus KINO – German Film No: 30 aus dem Jahr 1988:
26th Karlovy Vary International Film Festival
A festival without sensation but loaded with atmosphere, this year's Karlovy Vary film festival (July 7-19), an event alternating with Moscow, caught and held the attention of cineastes from the very beginning. The number of competing films had been limited to 20, to which another 12 were added in the Opera Prima section. Special screenings adequately filled in the gaps –– that and the charm of one of Europe's loveliest spas. […] As for its Western profile, Karlovy Vary could sport such stellar attractions as Bernardo Bertolucci's The last Emperor, Woody Allen's Hannah and her Sisters, and Nikita Mikhalkov's Black Eyes. The film market, too, could boast of a varied and fairly immense program.
And the last chapter about Filmfestival Karlovy Vary in KINO – German Film No: 55 aus dem Jahre 1994 is:
Czech President Vaclav Havel made a personal appearance at the awards ceremonies on closing night.He made it a point to affirm that Karloy Vary should remain in the future an important international film festival. Moreover, he announced that from now on it will take place annually, rather than biannually as in the past.
Viel Glück!
Topics: International Reports | Comments Off
By Dorothea Holloway | July 13, 2015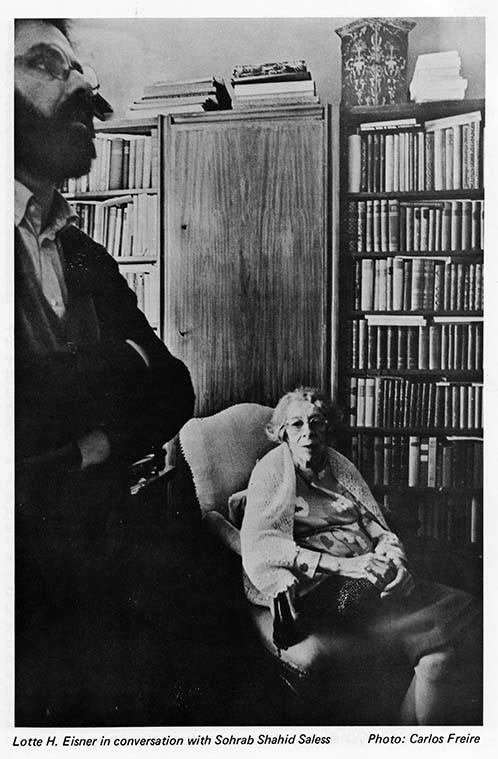 Das KINO-Heft hatte noch keine Nummer und noch nicht den Zusatz »International Reports«. Der verehrten Filmhistorikerin Lotte Eisner hatten wir das Heft gewidmet: »The first issue of KINO is respectfully dedicated to Lotte Eisner.«
Die langen Ferien
When, on April 1st, 1933, I travelled for the last time on a sleeper to Paris, my sister and brother-in-law awaited me at the station. It was like an April Fool's Joke: My brother-in-law said to me: »You've really come here to take a vacation …« And I said to him: »Oh, Gene, this will be a long vacation!« For I knew that Germany was for me the fatherland I had once had. (Excerpts from The long vacation of Lotte H. Eisner, a documentary film by Sohrab Shahid Saless, 1979).
Ronald Holloway wrote the first report with the title A German Breakthrough? Here the beginning:
At the very moment Reinhard Hauff and an angry group of Munich directors were organizing the rebel Hamburg Film Fest of Film Makers (Das Filmfest der Filmemacher) – a »protest fest,« as Variety coined it – , preparations were being made in New York for the American premieres of Werner Herzog's Woyyzeck and Nosferatu, Rainer Werner Fassbinder's The Marriage of Maria Braun and In a year with 13 moons, and Volker Schloendorff's The tin drum, and Reinhard Hauff's Knife in the head.
In ARTE ist kürzlich – am 9. Juli – Rainer Werner Fassbinders Nachkriegsdrama Die Ehe der Maria Braun (1979) gezeigt worden. Dieses Meisterwerk hat Filmgeschichte geschrieben.
Topics: Film Reviews, German Film | Comments Off
By admin | July 9, 2015
Unsere KINO – German Film-Autorin Doreen Butze hat sich Terminator: Genisys, die neueste Folge einer der erfolgreichsten Science-Fiction-Franchises Hollywoods angeschaut. Trotz der Wiederkehr des ehemaligen Gouverneurs Kaliforniens zu seiner erfolgreichsten Filmrolle, bleibt einiges auf der Strecke:
Regisseur Alan Taylor hat es völlig verschenkt einen tiefer gehenden Bezug zur aktuellen technischen Entwicklung herzustellen. War im Jahr 1984 Skynet noch eine Dystopie, sind wir heute technisch schon einen Schritt weiter. Doch interessante Aspekte wie Datensicherheit oder Überwachung (NSA-Affäre) werden bestenfalls nur angerissen. Aber vielleicht war es auch nicht die Absicht des Regisseurs auf diese Themen näher einzugehen.
Die ganze Kritik hier auf unserem Partnerblog PHUTURAMA.
Topics: Misc. | Comments Off
« Previous Entries