« GoEast Symposium April 2012: RealAvantGarde – With Lenfilm through the short 20th century | Home | Vive le Jury! »
By Johannes Scholten | February 23, 2012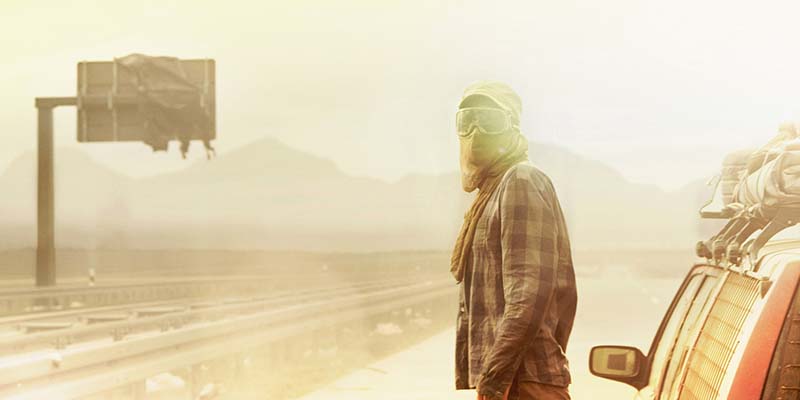 In photo: Scene from Hell by Tim Fehlbaum, courtes Filmfest München
A postapocalyptic feature film from Germany. This almost sounds like a miracle. Actually, one rarely stumbles across film releases from this sort of genre over here. This fact in itself should have guaranteed director Tim Fehlbaum's feature film debut a great deal of attention at various film festivals.
Besides the fantastic, imaginative and hauntingly suggestive traits when it comes to humankind's bleak future, Hell has a gritty and utterly realistic touch. This is because you can recognize certain places and even notice some street signs and other minor details which you have probably seen before in real life. Another reason for its authenticity might be the fact that the plot relentlessly focalises the protagonists' fate.
Hell is definetly a movie without big, flashy CGI. Probably the braggiest effect in the movie is the cross-faded look of the film which sort of reminisces The Book of Eli by Albert and Allen Hughes. The storyline, though, shows off analogies with The Road since it has the same character- focused approach like John Hillcoat's bestseller adaption. Even though the creators of this piece have gone for a visual approach typical of the genre, the imagery strives to tell a good story and not just at making it look fancy.
What we have here is a well-accomplished symbiosis of a matching score (a diverse work of German composer Lorenz Dangel) beautiful Cinemascope cinematography and, of course, a swell ensemble of actors and actresses.
Hannah Herzsprung takes the lead as tough Marie, the strong female who must proof her perseverance when facing enormous dangers. She delivers a good and very physical performance showing off a certain sexappeal. Her on screen colleagues are Lars Eidinger und Stipe Erceg – the former as her boyfriend and the latter as Tom, the lone stranger. A mere 14 years old, young actress Lisa Vicari completes the cast as Maries younger sister Leonie.
Starring as antagonist, Angela Winkler, a veteran actress from Brandenburg, Germany, indulges in subliminal evil and shows off a thrilling portrait of peasant woman Elisabeth.If you consider Marie to be the hero of this tale, the one stable person which we can identify ourselves with, Elisabeth is the one showing us how thin the ice is on which our so-called »civilization« is based upon. And the world depicted in Hell is hot enough to melt down this ice.
Not only by means of Roland Emmerich's grandeur as executive producer this is a German production displaying a truly international standard. Not at all! Thinking of recent German cinema, this is a refreshing film rendering hope for a more diverse choice of features around here.
Topics: Film Reviews, KINO #102 Berlinale 2012 Issue | Comments Off on Hell by Tim Fehlbaum
Comments are closed.