« Roundup of April Festivals – from Nyon to Berlin | Home | Karl-Heinz Lotz turns 65 »
By admin | May 26, 2011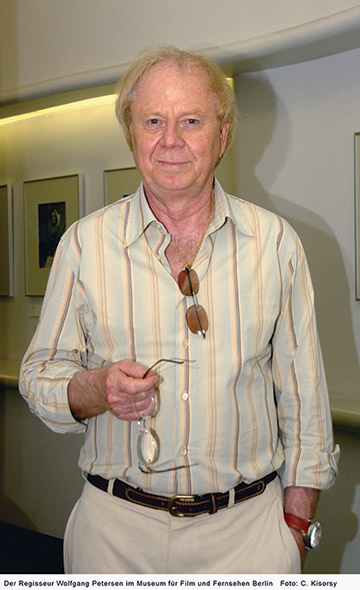 As a way of marking Wolfgang Petersen's 70th birthday this spring, KINO – German Film offers extracts of an interview Ron Holloway conducted with the Emden-born director in spring 1984 to discuss the making of The Neverending Story.
Sitting with Petersen in a suite of West Berlin's Hotel Kempinski, Ron described him as the "German director approaching New Hollywood Cinema in theme, style and perfection."
Petersen replied that this was a compliment he appreciated: "I do have a distinct liking for movies that tell a story well – for films like Francis Ford Coppola's The Godfather and Steven Spielberg's Jaws and George Lucas's Star Wars. And when I made Das Boot and it played America, I was flattered to hear that Spielberg numbered my film among his personal favorites. So I asked him in turn to look at a rough cut of The Neverending Story, and he did. Together, we were able to tighten the story line by editing out some eight minutes to 'bridge' key action sequences."
Asked whether the Michael Ende adaptation was an American or European production, Petersen replied that, "of course, it's a European production. Better still: a German one. It's true that the blue-screen technique has been perfected by such New Hollywood directors as George Lucas, and that's where everyone presently has to go to do the 'combinations' required in using the technique. The puppets, too, required a visual-and-special-effects consultant, so Broan Johnson was brought in to help on the production: he had won an Oscar for his combined work on Alien and The Empire Strikes Back."
"Altogether, that may appear to be a blueprint for a Hollywood spectacle," Petersen continued. "The only difference is something Steven Spielberg said to me while assisting on the working print – namely, The Neverending Story would probably have cost twice as much to make along American standards. So, in end effect, the film is not only a clearly Germanic theme, but it's also 'made in Germany' for export abroad."
In the interview, Petersen also recalled his work for television after having graduated from Berlin's dffb in 1969: "This was a fine training ground for learning how to tell a story, how to make it fully credible in pace, mood, and emotional detail."
He also worked with Günter Rohrbach at WDR in Cologne on a number of TV films, including Smog (1972) which won the Prix Italia in 1974 "and thus opened the doors to more serious and expensive projects. A public's favorite among these was the two-part adaptation of Max von der Grün's social-conscious novel Stellenweise Glatteis (Icy Patches in Places, 1975) [starring Günter Lamprecht, Dorothea Moritz and Klaus Schwarzkopf]. It was in Icy Patches that I learned how to handle masses effectively before the camera, and how to let a good story flow at its own pace to remain convincing."
Ron Holloway
The complete interview with Wolfgang Petersen can be found in KINO 14 (1984)
Topics: Misc. | Comments Off on Wolfgang Petersen turns 70
Comments are closed.